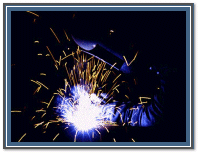 Spec-Weld Technologies, Inc

In 1994, Terry Lowe founded Spec–Weld Technologies as a way to help small- to medium-sized metal fabricators improve their welding skills, as well as assist them in complying with code requirements. Soon, Spec-Weld started basic in-plant welder training programs, primarily in the Gas Metal Arc Welding (GMAW) process. 
Eventually, though, Spec-Weld extended its offerings to include plant start-up programs for companies like Alcoa Automotive Structures, four-year apprenticeship training programs for companies like Riker Products, and specialized training programs at schools such as Owens and Northwest State Community Colleges. And, now, Spec-Weld's programs also cover all major welding and cutting processes and include AWS Certified Weld Inspector preparatory programs.
One of the outcomes of the many training programs was that the welding personnel became certified in a variety of welding codes. Certification, then, became a substantial part of Spec-Weld's business, extending from private businesses to also include a number of Union training facilities throughout Ohio. The training programs now include procedure development and qualification as well.
As the quantity of code work by customers increased, visual inspection and non-destructive testing also grew. Today Spec-Weld offers third party ASNT Level II and Level III services in PT, MT, UT, and ET processes; AWS Certified Weld Inspection services to manufacturers; and verification inspection services to buyers. Spec-Weld's goal is to become a single source contact for all your welding and personnel development needs.


Spec-Weld is a supporting company of AWS